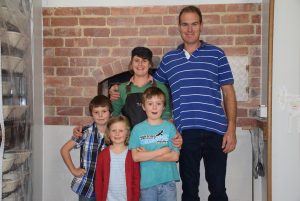 The oven is lighted and the leavens fed, ready for baking day tomorrow. As I watch the last colour fade from the western sky behind the pine trees, the colour of the fire in the oven is becoming more intense, the temperature hotter, increasing through the night until in the early hours of the morning only a few logs will remain, falling to glowing coals. This is the time when I will start mixing the doughs, bringing flour, water, and leaven together, then adding salt, and gently folding in other ingredients as called for. And by the time the colour is leaving the sky tomorrow evening, loaves of sourdough will be coming out of the oven, crust slightly crackling as they cool, filling the bakery with the smell of toasted grain, reward for the long hours.
We will be at Koonwarra Farmers Market bright and early on Saturday morning, and deliveries will be carried out by Greg to our lovely stockists throughout South Gippsland.
Being a long weekend, we will not be baking this coming Monday, but will be having some time off together. Take care and eat good bread, it is truly a staple of life!