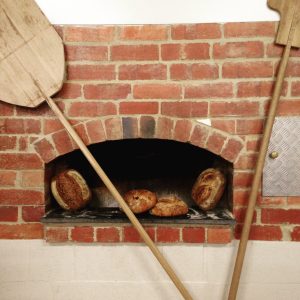 It seems quite amazing that it's been a year since I have written anything for the blog. Time gets to be of the essence, and something had to be let go…… My apologies to anyone out there who has been patiently checking for anything new. Let's see how we go a year on! Again, it is Spring, the daffs are flowering and fruit trees are beginning to blossom. A time for new things and old things to be reinvigorated. Just recently I made the trip to Sydney for the grAiNZ2017 gathering; a convergence of bakers, millers, farmers, growers and general bread heads. An incredibly inspiring experience, to be surrounded by like minded people with the same aim, all doing things differently. So much to be learnt and absorbed, many new people to meet, people who are passionate about what they do and how they do it, the products they use, the flour they buy,  mill, or even grow, the care taken to create good food for others; and bread being a staple food, it is on us bakers to make sure that it will provide sustenance, nutrition, and enjoyment. Naturally. So many loaves were broken open and shared, wholegrain, stone milled loaves, slow fermented, and so full of flavour and goodness. And so I have come home inspired and invigorated and with an even stronger belief in what we're doing, and with much knowledge gained. Thanks and kudos go out to all who were there, and anticipating next year!
In the meantime…..these chilly, drab mornings are perfect for warm toast, so we have a Whole Wheat Raisin sourdough which you will see at markets and in the lovely shops that stock our bread. Also, Seeded Rye, a tin loaf, full of Australian pumpkin seeds, brown and golden linseeds, and sesame seeds, made with whole rye and whole wheat flours. And for spring too, our Spelt Fruit Loaf, with sultanas, currants, figs, apricots and almonds, lightly spiced, hint of lemon, delicious and wholesome to get you through the day! All our flour is milled in the bakery every week by Greg, and we only use organic ingredients.
The grass is growing and the sun shines – briefly – today, but there will be more chilly days to come I think! Keep warm, eat well, and take care. Betsy.