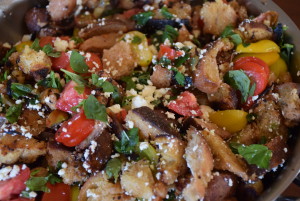 A great way to use up left over bread, AND also all those tomatoes! I made this panzanella  on the weekend with a sifted white loaf that had got a bit black on the bottom in the oven, and it was delicious, and very easy.
I sautéed some onions from our garden in olive oil, and then tore the sliced sourdough into the pan with more olive oil, and let it fry and sizzle with the onions for a while until it was nice and crunchy and caramelised with bits that were still soft and chewy. I had some olive oil left from a jar of marinated capsicums, flavoured with garlic and bay leaves, so I added some of that too.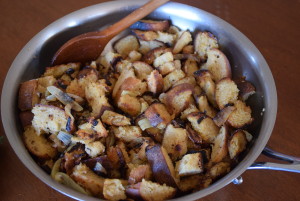 We have lots of tomatoes in the garden and Stella and I had picked baskets full that morning, so we had several different types of heirloom tomatoes to go in, and basil and parsley.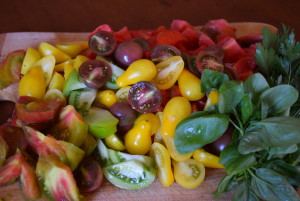 A little sprinkle of red wine vinegar and some fetta on top; beautiful! Beautiful to look at, and delicious to eat, and very, very good for you, and it's always awesome to have a meal where almost everything on the plate has come either from the garden or your own kitchen, or bakery in this case I guess, lucky us!